Background
The Micro Businesses Program was developed during the COVID-19 outbreak which aimed to support and uplift micro entrepreneurs. The program solutions included DRE powered technology and built environment, finance, branding and marketing. SELCO Foundation (SF) partnered with organizations in order to provide selected enterprises with a complete package of digital sales, networking and branding, as well as space design. The Micro-Businesses team partnered with Vendo for exploring market linkages for enterprises through digital channels. This includes entrepreneur training, brand building and digital inclusion leading to market linkages. To date, Vendo has trained and conducted sessions with over 30 enterprises. They are training on general business strategy and on how to grow their business through digital channels as the medium. Some micro entrepreneurs want to reposition their business a certain way post COVID, for example, Shainaz, an entrepreneur who wants to rebrand her restaurant and build a state level brand. The prerequisite, chiefly, for an end user to be shortlisted is to ensure that they have a customer base beyond a 2 km radius for outreach. Vendo procures a list of end users via SF and screens them to gauge if they are keen on taking up this training.
Training Session under Vendo
The first session includes general knowledge sharing regarding google reviews, developing collaterals, understanding customer base, and vision about their brand, going forward. The second and further sessions will be conducted with people who are receptive, and sessions are custom made to each end user to see how they can grow. Marketing for state level brand building, Vendo organizes its training into 3 phases as follows: Stage 1 - Branding - 6-7 hours Stage 2 - Product Photography - 4-5 hours Stage 3 - Growth phase - whatsapp for business development, fb market or India mart
Built Environment for Improved Productivity and Safety
Partners Studio RR were brought on board for designing appropriate solutions for micro entrepreneurs in the geographies of Karnataka and Tamil Nadu respectively. They bring in the expertises of product design and space design with a climate responsive approach. The designs are co-developed with the inputs and aspirations of the enterprises. Designs have been developed for 10 enterprises so far which include space and furniture design (as and where required). With requests from the end user followed by site visits conducted by SELCO Foundation field teams. The site layout, photographs, requirements are shared with Studio RR virtually and they are connected to the end user. Once the designs are vetted and approved by the end user and SELCO Foundation, the design is handed over to the field team who liaison with local fabricators for implementation. Some enterprises which were supported with built environment designs and implementations include - beauty parlour, eatery (millet kitchen), blacksmith work space, SHG run masala (food processing) making unit etc.
Om Sri Sakthi - Theni
Manufacturing Unit (2 yr old) making consumable healthy food products like spices & herbal supplements Founding Team of 3 with complementary skill sets The entrepreneur is ambitious and interested in building a regional brand. Their customer loyalty and retention seems high. Entrepreneur is highly ambitious to upskill on branding & marketing; already tried influencer marketing informally that was successful Prior network of 7000 trainees is a definite hotbed to tap for WhatsApp They are in the growth phase looking to expand business via whatsapp, facebook market and India mart.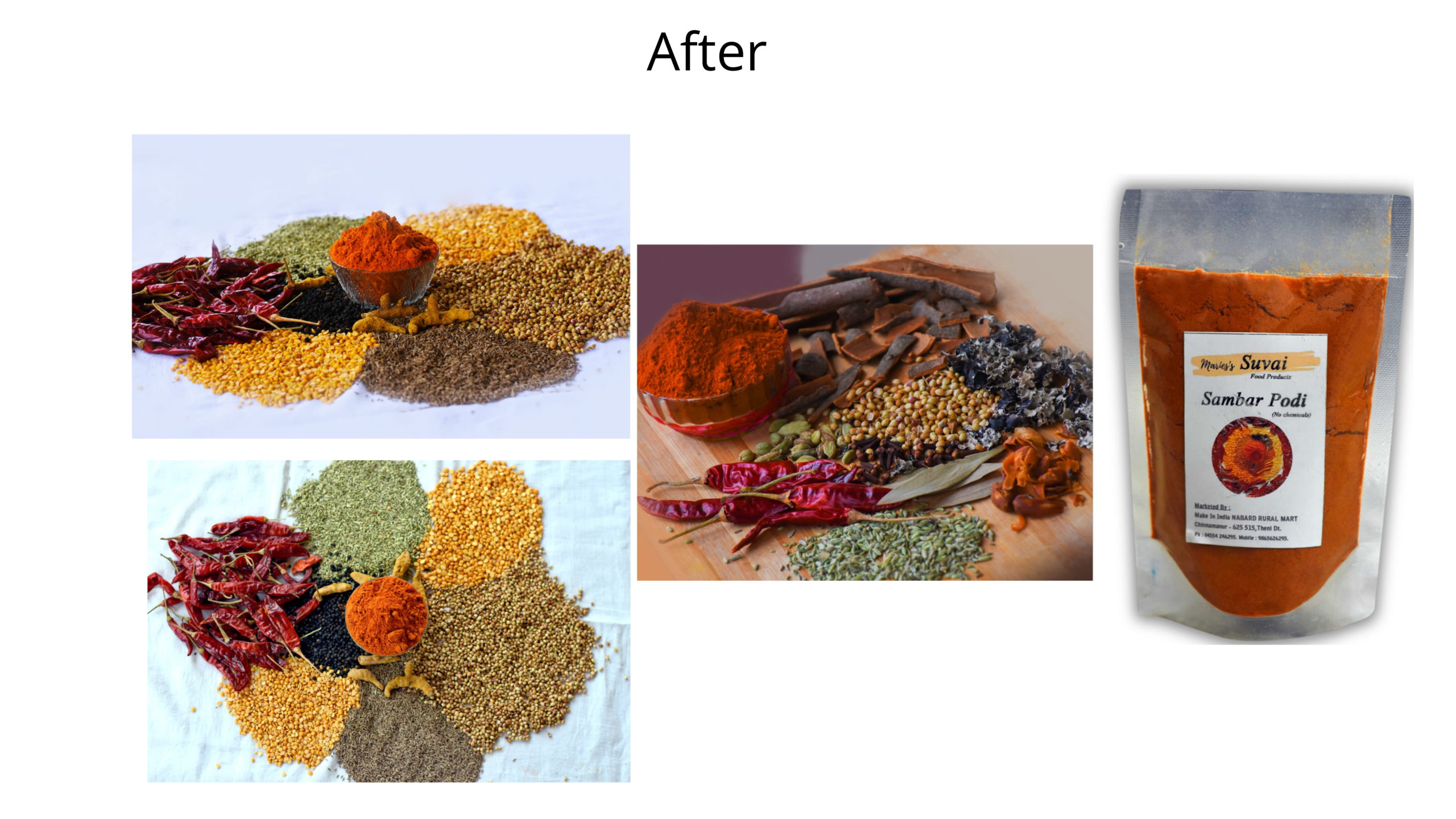 Shainaz Rotti & Chutney - Dharwad
An experienced entrepreneur couple who run a business of food products made out of jowar, bajra, akki rotti and groundnut chutney. They have employed 8 people. Presently they are in phase 1 training and already supplying to 100 stores in Dharwad. As partners, Aneez looks after marketing and Shainaz manages cooking and staff. Meanwhile to further expand their market linkage, Shainaz and her son are undergoing training under vendo and are currently in phase 1.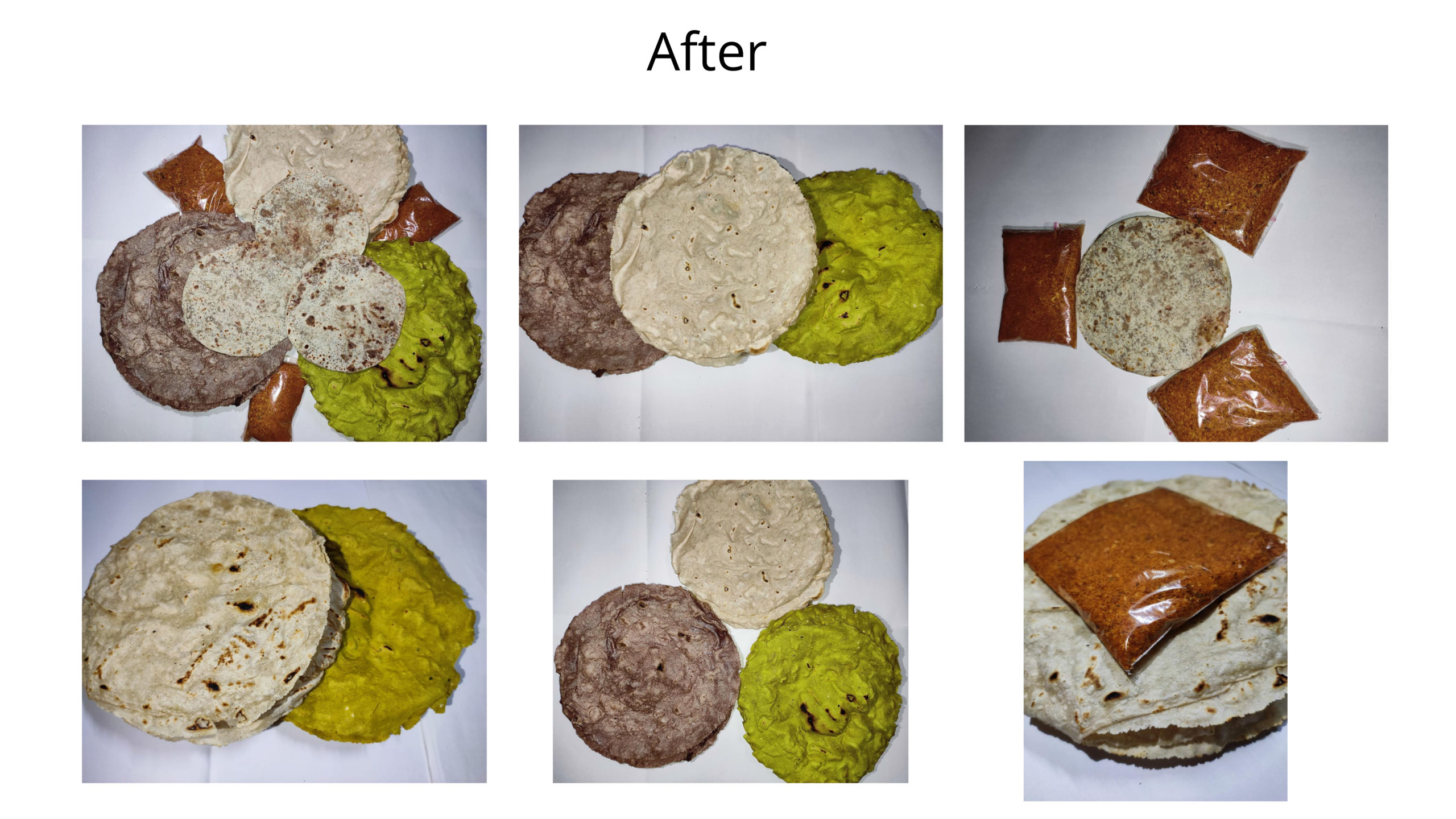 Ujwal Home Products
An educated entrepreneur who is running a chilly pounding business with 4 employees is ambitious to build a state level brand. He is aware of digital marketing potential and wants to scale up. He wants to initiate B2C for brand building but main revenues will be from B2B. He is in the early stages of his business. The Vendo-led partnership provides training to scale business through digital platforms in 3 phases. The gradual pace of training is subject to entrepreneur's reciprocation and his/her level of ambitions and awareness on digital marketing led business. The owner of Ujwal home products has been provided with branding design interventions, product photography and digital marketing training via fb market and india mart.