Background
North Karnataka is a semi arid region accounting for nearly 60% of the state's land mass and is divided into about 13 districts. Imbalanced development efforts have consistently made this region a serial underperformer on major economic and human development indicators in comparison to other parts of the state. The region suffers from high poverty, illiteracy and unemployment forcing these traditional farming communities into migration. Karnataka has the second largest arid zone in the country and the North receives only about 600mm of rain compared to an average of 1000mm in the rest of the state, making it prone to regular drought conditions.
The project targeted communities who were from very backward districts in the region, barely making ends meet and predominantly employed as small farmers, manual laborers, petty businesses or migration workers.
SELCO identified one major need-clean reliable lighting to replace current dominant usage of kerosene lights in the absence of any alternative. While a technology solution was available, uptake of this solution was hindered by the inability to pay upfront for the system. A lack of credit history, low economic profile made it difficult to convince bankers. Hesitation of local financial institutions to lend and any other viable financing mechanism greatly hampered the ability of these communities to access much needed credit to purchase solutions.
SELCO in partnership with Manipal Foundation formed a risk guarantee fund to derisk lending by local banks to overcome a risk perception with "high risk" customers. As and when these loans get completely repaid the guarantee amount will be withdrawn and reused to release a fresh set of loans to similar high risk communities with other bank branches.
This financial mechanism was directed to ensure bankers build their confidence by lending to a few members of the community with the comfort of the risk guarantee fund in case of any defaults and then subsequently lend without any guarantee to the next round of customers.
Technological Solution
1 light system with a mobile charger – 3.6W LED light, 12Wp Panel, 15Ah battery. 2 Light system with a mobile charger-1.2W & 2.4 W LED, 12Wp Panel, 15 AH battery. Financial Model and Scheme
Cost of the System- Rs.7000 (1 light); down payment by customer- Rs. 500; Loan- Rs.6500; Govt. subsidy-Rs.1500 Risk Fund with bank-Rs.3000; Net risk exposure of the bank- Rs.2000 Average EMIs- will be Rs 145 for a 5 year loan. The subsidy will be adjusted at the end of the loan period.
Key Aspects
Investing in time and resources to build relationship and trust with local financial institutions and being amenable to this pre intervention period lasting upto three weeks.
Engaging different levels of financial institutions can build pressure and interest which will further loop back to local bank managers.
Channelizing soft funding towards overcoming targeted financial barriers rather than reducing the capital cost of the system. Opening up credit and choosing financial products in line with cash flows is a more sustainable way to enhances affordability.
Taking financiers to sites to view firsthand the impact and local conditions. This can be a powerful convincing tool.
Solution Design
All families own a one light + mobile charging point which includes a 3 W CFL bulb, a mobile charger. The central charging station has a provision for 7.5W of panel per 4.5Ah battery with autonomy of two days. The average cost of such a system including installation, 5 year warranty and 1 year annual maintenance is Rs4000. Mobile charging was also a major expenditure as it's the only source of entertainment; individuals spent over Rs150 a month just on charging mobile phones. They now charge it at home for free. The first 30 systems are implemented through a community-owned model. As no bank could take on the risk, keeping funds as risk management- SELCO Foundation installed the central charging station on a deposit of Rs 200 from each family. The households pay a minimum of Rs100 per month and a maximum of Rs 400 (variable instalments) to a group of representatives chosen by them from within the community. The monthly collection is handed over to a community representative. In total 100 households were reached i.e. 500 households through 3 local financial institutions- Syndicate Bank, Karnataka Vikas Grameen Bank, Pragathi Grameen Bank through a 8 bank branches.
Testimonial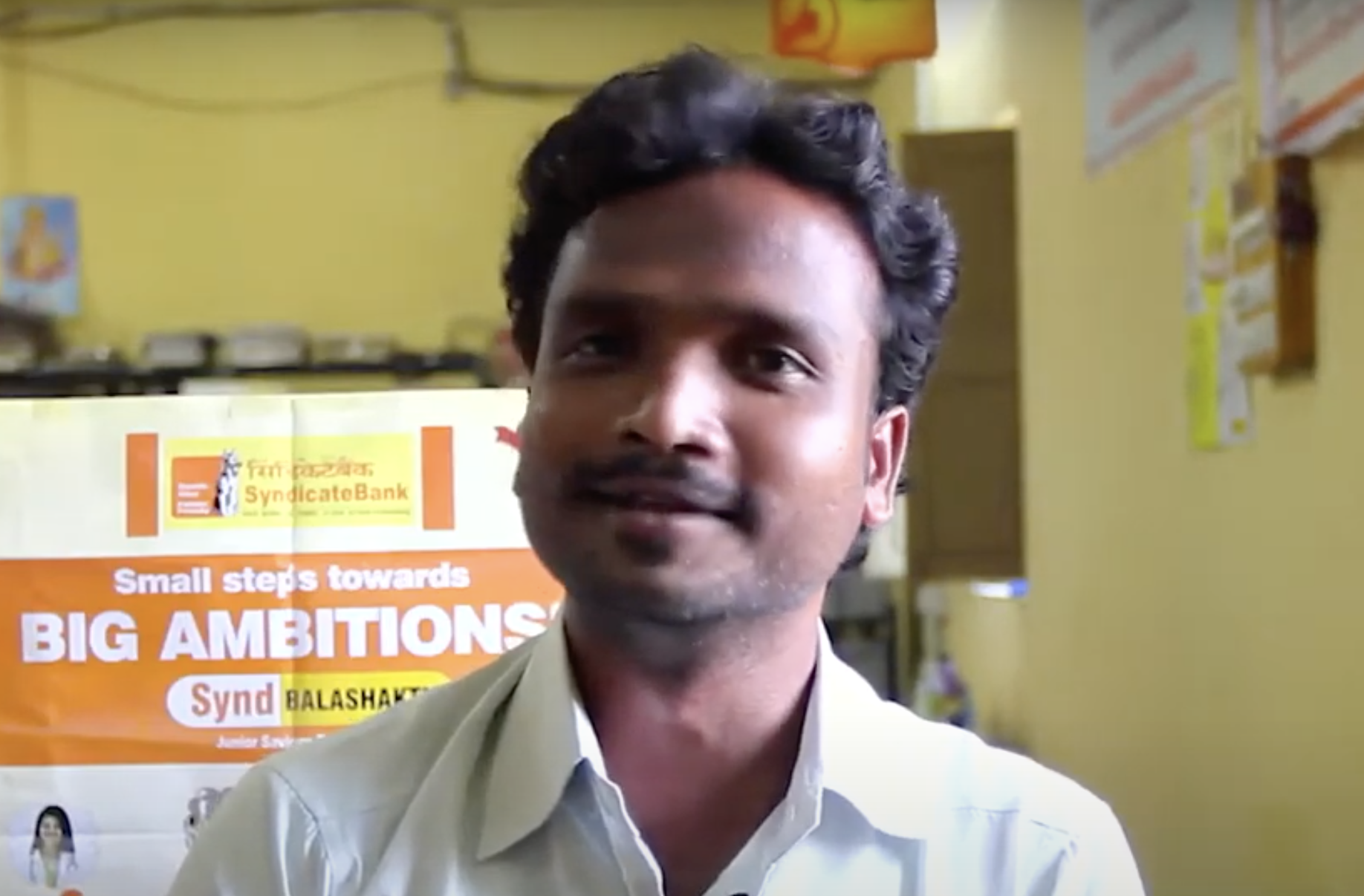 "We have taken 3 days time to complete all 22 loan applications. The households do not engage just for loan but also have transactions and savings with us now."
Mahesh, Manager, Syndicate Bank, Peddaharivanam
Impact
Challenged the business-as-usual practices of mainstream financial institutions by encouraging them to adopt measures that promote greater financial and social inclusion of customers that are often neglected because of their socio-economic backgrounds. As these financial institutions become more familiar with the technologies and the credit-worthiness of these customers, an important example will be created for other financial institutions, ultimately helping to mainstream the financing models to reach more people within these segments.
Improved their quality of life, allowing them to conduct their daily activities with less difficulty and avoiding the need to resort to kerosene lamps, which are linked to numerous health and safety concerns.
Access to lighting has increased end-users' productive work hours (especially home-based workers) into the evening, freeing up crucial daylight hours for other pressing activities.